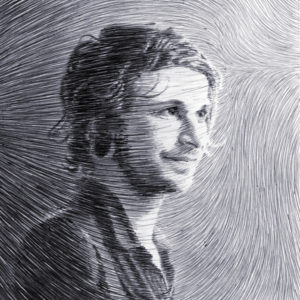 Eric Bevernage is interested in all forms of artistic creation, and has progressively focused his work on graphic arts.
In 2009 he joins an illustration school in Bordeaux while at the same time becoming a self-taught tattoo artist.
Always looking for new adventures and discoveries, he explores multiple art studios, museums and galleries through Europe, therefore strengthening his cultural background.
With his art, he invites the audience to come closer to the artwork in order to discover its most detailed aspects, and observe how the drawing and painting techniques have been brought to their limits.
The audience's attention is captured in moving artworks, where the confrontation between proximity and remoteness makes them forget the figurative nature of the subject.
With a subtle use of the expressive power of images and of original materials,
Eric creates a unique link between the substance and form of each of his creations in order to bring the inanimate to life.
---
Exhibitions, performances and scenography:
2018 :    Solo show at Contraseptik Strasbourg (France 67)
Group show Les Arbustes at Mantes-la-Jolie (France 76)
Group show INTERBIFEP in Tuzla (Bosnia)
2017 :    3rd bland and grey VerySudOuest tattoo convention Pau (64)
2016 2017 : scénography for le Cendar association Pau (France 64)
2016 :   live drawing at Nouveau Numéro Pau (64)
Scénography at la Dérive club Pau (64)
Solo show at Boesner Bordeaux (33)
Residency and group show «solstice» at la Taverne Gutenberg Lyon (France 69)
Live drawing with Undergroov at Auriac Festival (France 19)
2015 :  Live tattoo free machine at l'I-baot, Bordeaux (33)
Group show tattoo convention at Pau (France 64)
Live linocut printing for O'styl's release party at Rocher de Parlmer   Cenon (33)
Group show at la Zone du Dehors Bordeaux (33)
live drawing with Mes Doc's at Contenpourien festival Mantes-La-Jolie (France 78)
Beginning of Hahatelier jewelry.
Solo show at le Chat qui Pêche Bordeaux (33)
Group show at Café de l'Étoile Bordeaux (33)
2014 2015 : Scénography for Méchoui Musicaux Multiculturel (33)
2014 :  Wall painting at « Bordeaux sous les bombes » (33)
Group show + wall painting at Espace Paul Bert Bordeaux (33)
2013 :  Exhibit winner at Vibrations Urbaines Pessac (33200)
Scénography for Sound Rising Halloween Party BOOTLEG Bordeaux
Group show Re-design Boxon Records at Marché de Lerme à Bordeaux (33) Commissioner: Pierre-Cornet de St Cyr
2012 :  Perf live/sceno « Black Hole » for dance collective TKKG Bordeaux (33)
Performance collective directed by Rouge at Bordeaux (France 33)
2011 :  Group show Happy Birthday Rise Magasine at Lucky Bastard Shop Marseille (France 13)
2008 : Group show at Le Boulevard des Potes Bordeaux (France 33)